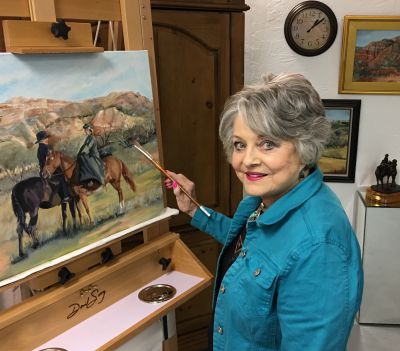 Becky Castleberry – Western Artist
As a customer browsed Becky Castleberry's gallery at Sunset Studios in Amarillo, he pointed at a painting of a working cowboy and horse. He demanded to know how long it took Becky to complete it.
"A lifetime," she told him.
Becky grew up on a ranch near Dalhart, Texas, where every aspect of ranch life became ingrained in her soul. She learned in a one-room schoolhouse to read and write and reach for the stars. For more than 30 years, she has been painting and piloting small aircraft.
As a young mother, cooking and cleaning for three children and about 15 hungry cowboys, Becky started making a weekly 60-mile round-trips for art lessons, an experience she shared with her mother and sister.
"Draw what you know," she was told, and so she did, drawing her dapple gray horse Charcoal every day for practice, running her hands across the muscles and veins until she understood them all. That one bit of advice led her to a sensitive and intuitive sculpting and painting process for horses and other western subjects that she continues to this day.

As part of her process, Becky keeps a camera near her constantly, snapping photos on ranches and on artists' expeditions. She stuffs those photos in reference notebooks. Every painting from her hand comes from imagination, from inspiration and from life.
Becky's works of art hang in private collections and galleries throughout Texas, Colorado and Arizona. She has pieces at the Bell Ranch in New Mexico and has exhibited by invitation at the George Phippen Western Art Show in Prescott, Arizona, and at the Cowgirl Hall of Fame.
The Meredith Hunter Gallery in Santa Fe and the Horizon Gallery in Tucumcari have been proud to hang Becky's work. She showed with the prestigious Thunderbird Artists of Arizona in numerous cities in Colorado and Arizona for two years.
Becky has been published in the Blue Book of Texas Artists, American Artists of Renown and Notable Women of Texas. She was included in a volume of Southwest Art 1997 Red Book Price Guide.
She has donated many pieces to the Artists for Arthritis Foundation, the American Cancer Society and Big Brothers/Big Sisters of Amarillo. She designed the historic XIT Rodeo & Reunion bolo ties for eight years and was honored with a silver coin edition for the 50-year anniversary.
Though rooted in the past, Becky's work speaks to the modern and continuing spirit of the American West.